❤ PERFECT SIZE - Product dimensions: 18*19*10". Perfect size and design for the most lifelike experience possible.

❤ TWO HOLE DESIGN - 3D Sexy Lady's mini lotus pussy cat and butt ass in one. This Vagina Butt has two different channels and the two tunnel are separate, You can enjoy more.

❤ BOOTY STYLE - Most men's favorite sex position is 'pushing a wheelbarrow' style,this pussy anal ass sex toy will provide you most realistic sex pleasure. 3D realistic soft touch design and lifelike vulva/labia and anus, bringing the perfect orgasm you always long for.

❤ EASY CLEAN - The material is of medical TPE, free of latex and phthalate. Velvety, smooth and perfectly formed, it also extremely stretchy, soft and easy to clean. Compatible with both water based and silicone based lubricants.

❤ DISCREET PACKAGING - 100% discreet, we will have a dedicated sealed box, unmarked packaging, confidential delivery, express orders without leaving any sensitive words.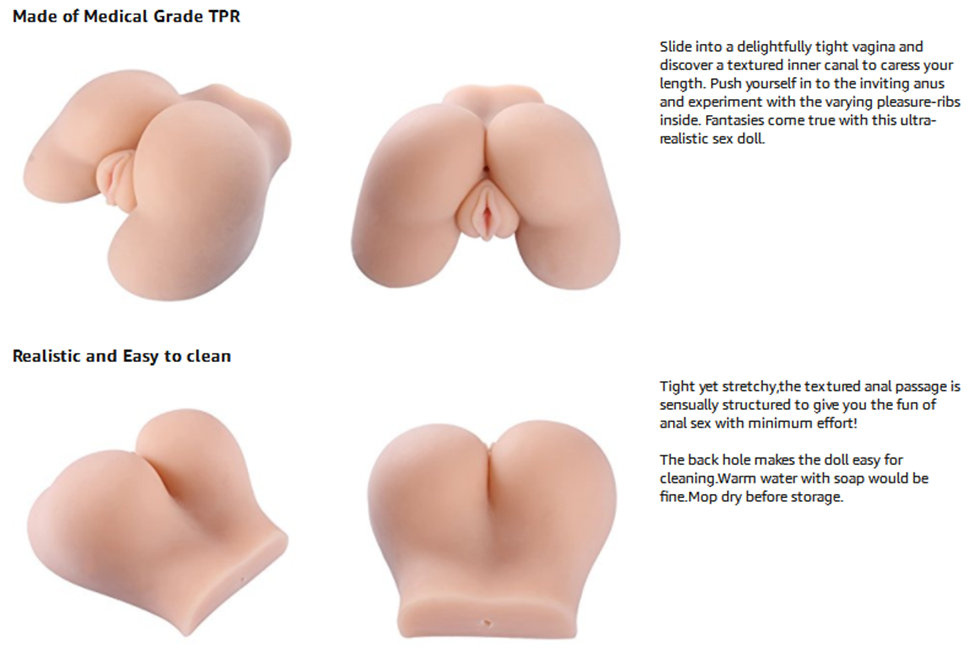 Realistic Sexual Pleasure
The product is a lifelike va / gina sex toy. and it has multiple ways to have fun, you can enjoy her perfect cast and intensely textured two holes. this sex toy with the soft and supple texture as well as the vibrant vulva and anus will help men to release their sexual thirst. Before using this masturbator, put the moist lube and let it na-ss, you will enjoy more exciting feeling.
3D Realistic Design
It copies from a real women.
100% simulation material smooth like baby skin.

The ventral and anal canal are roughened for intense stimulation and modeled on a virgin with a narrow vagina.

Resistant to abrasion; Reusable, no deformation or quality / feeling loss.

Made from ultra-realistic TPR material, this model-inspired 3D sex doll is soft to the touch, feels powerful in your hands and gives you a pleasantly comfortable feel around your erect penis.
Unique and Innovative Construction
The favorite position of most men is wheelbarrow style, this sex toy will give you the most realistic sex pleasure.

3D realistic soft-touch design and lifelike vulva / labia and A-nus, brings the perfect orgasm that you always crave. La-ss your imagination free rein. You'll soon realize how much she fancies you and will provide unprecedented stimulation.
Healthy and Safe Materials
Use medical grade silicone, footage, non-toxic, odorless.
This material feels very soft and you can grab it or scratch it.
Super-real hand feel with medical silicone material. The body parts feel soft and elastic.
It is with two pleasure holes make for double the fun!
Absolutely Cool
3D realistic structure for A-nal and Va / gina - Realistic feeling as in real sex, it feels like having sex with the closest virgin.
Attention
1.Wa-sser can be used to clean the toy.
2.It is not recommended to use cooked water for disinfecting.
3.Avoid direct sunlight. Please towel and air dry it.
4.Before and after each use, gently clean the product.